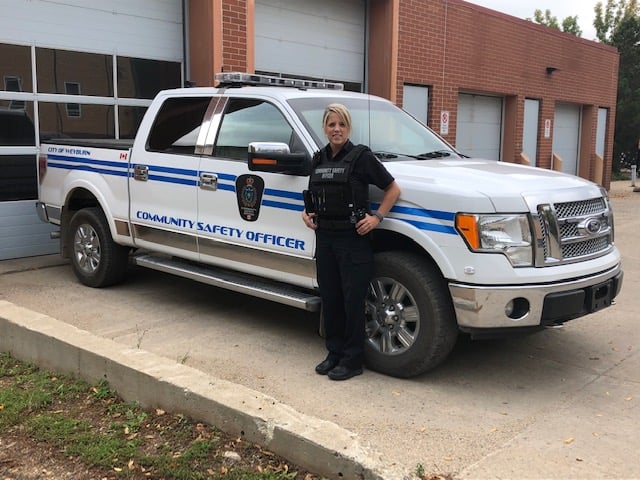 In 2019, Community Safety Officer (CSO), Lisa Robertson was sworn-in. CSO. Robertson received six-weeks of training in the Community Safety Induction Training Program at the Saskatchewan Polytechnic as well as in-house training at Weyburn Police Service.
The CSO program was authorized by the Provincial Government some time ago, and is an opportunity for communities to have added uniformed enforcement in areas like local Bylaws and various other Provincial Statutes. There is also the hope of relieving some of the workload and call volume pressures of fully trained and armed police officers.
There are some significant differences to the authorities. A CSO is not armed with a firearm; however, carries handcuffs, an expandable baton and Oleoresin Capsicum spray. CSO's are authorized to enforce municipal Bylaws, select Provincial Statutes (Traffic Safety Act, Alcohol and Gaming Regulations Act, Mental Health Act, etc) and take 'after-the-fact' complaints of minor criminal matters such as Break & Enter's. Our CSO will also act as liason with schools in Weyburn, administer the CAA Safety Patrol Program, and present on various topics mutually agreed to by both the schools and the police service.
The CSO is identified by a unique uniform and will be operating a unique patrol vehicle, equipped with all emergency equipment. In many respects, it is similar in markings to regular police vehicles, but is clearly identified as a Community Safety Officer vehicle. The CSO has full authority to stop vehicles for traffic violations and make arrests under certain provincial legislation. In Saskatchewan, any vehicle displaying red and blue flashing lights is considered an enforcement vehicle. Should you see these lights behind you, whether they are a regular police/RCMP vehicle, a SERM vehicle, a Saskatchewan Highway Patrol Vehicle, or a CSO vehicle, you are legally required to pull to the right and not enter through the next intersection before stopping.
If you have any questions on the CSO program, please feel free to contact the Weyburn Police Service.