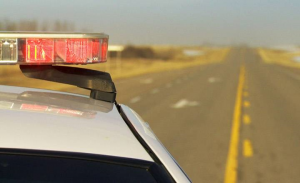 Weyburn Police Service currently has 2 members assigned to the Traffic Services Division.  These members are responsible for traffic enforcement in and around the City and work closely with Weyburn RCMP Traffic Services and the Saskatchewan Highway Transport Patrol members in ensuring public safety of all road users.  Members are responsible in educating the general public as well as new and experienced driver's in responsible and respectful driving practices by enforcement measures, presentations, safety clinics and check-stops through-out the year.
Certified Child Seat Technicians are available by appointment to install and check rear and front facing infant seats and booster seats. Call the non-emergency line to make an appointment. For more information click here.
"This Ride is On Us" Impaired Driving Campaign
This program is focused on reducing impaired driving by encouraging those attending partnering establishments to consider alternative options instead of driving after consuming alcohol. To increase awareness, those wishing to voluntarily participate will be provided with a taxi voucher for a safe ride home in exchange for their vehicle keys. SGI, MADD, and Weyburn Police Service has partner with several community partners to bring this program to Weyburn.  Additional information on the initiative can be found here. The initiative runs seven days per week until January 2019
Partnering Establishments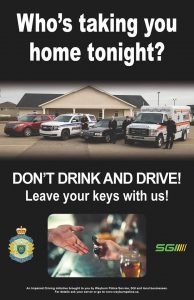 Detour Bar & Grill
Pump Jacks
Weyburn Golf Club
Royal Hotel (Dillinger's Pub)
Trifons Pizza
Royal Canadian Legion #47
Boston Pizza
Main Track Café & Lounge
Brothers Classic Grill & Pizza
Browns Socialhouse
Partnering Taxi Companies
A.M.I.R Taxi & Delivery
Empire Cab & Courier Service
Country Cab Inc.