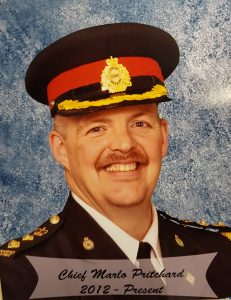 Welcome to the Weyburn Police Service Website and thank you for taking the time to learn more about this Service. The website will give you a better understanding of what we do and the services we offer.
The employees of the Weyburn Police Service are dedicated to meeting the needs of our community through strong partnerships, crime prevention strategies and balanced enforcement. As a service, we are committed to ensuring public safety for all in the City of Weyburn.
In recent years our activities have been aligned to reflect the goals of the Saskatchewan's Provincial Governments Building Partnerships to Reduce Crime strategies. We are a committed partner in helping those at risk individuals, and working on community wellness issues. This can only be accomplished through strong partnerships, as we recognize police cannot solve these issues alone.
Our service has tremendous support and cooperation; not only from our partners, but from the citizens we serve. But, I know this only happens through being accountable and transparent in our activities. To ensure we maintain the support necessary, we will continue to put 'community service above self' to ensure safe surroundings for all who live or visit Weyburn.
Marlo Pritchard
Chief of Police