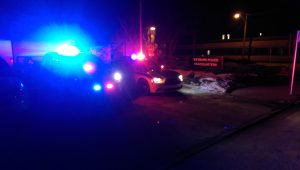 Weyburn Police Traffic Services take part in many traffic projects and initiatives throughout the year with it's partner agencies: RCMP Traffic Services, Combined Traffic Services of Saskatchewan, Saskatchewan Highway Patrol, Canadian Pacific Police and other municipal police services in the province.  Enforcement priorities are selected when high rates of non-compliance are identified and SGI's Monthly Enforcement calendar. Weyburn Police CTSS will host educational clinics & session when the need is identified or requested. Weyburn Police CTSS will often initiate smaller unannounced local projects when problem areas are identified within the Weyburn area.
FREE Driver`s Ed Refresher Course – TBD
Pre-register by March 15, 2019 by calling our non-emergency lines at 306-848-3250 or email kwiebe@weyburnpolice.ca.
Two Session available: March 17 1:00pm-4:00pm & March 18 7:00pm-10:00pm at 55 16th Street NE (City Works Classroom)
Presented by Weyburn Police Combined Traffic Services of Saskatchewan
FREE Child Seat Clinic – By appointment – Weyburn Police Service, 400 Coteau Avenue
"We understand car seats can be confusing to install. Our statistics show that half of Saskatchewan children under age 8 are not properly fitted in their car seats and that concerns us," said Shannon Ell, SGI's Manager of Traffic Safety Promotion.
Car seat clinics will be held in communities around the province. At the clinics, trained car seat technicians will check whether the car seat is appropriate for the size and age of the child, and whether it's installed and fitted correctly.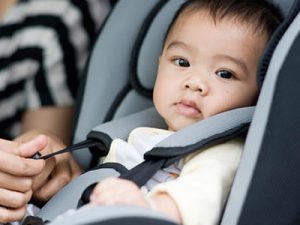 "SGI is committed to traffic safety. Starting with children in car seats, we're working with residents to make Saskatchewan a safer place at every stage of their lives," said Ell.
As a bonus, those who attend the car seat clinics will be entered in a contest to win a booster seat, with a draw occurring at each clinic, as well as a grand prize of a $1,000 Registered Education Saving Plan contribution to be awarded at the end of the Fall, courtesy of SGI.
The car seat clinics aren't the only opportunity you have to check your car seat. SGI has trained car seat technicians located around the province. You can book an appointment with one of them to have your car seat checked for suitability and fit.
June 3 – 4, 2020 – SGI STEP (Selective Traffic Enforcement Program)
Weyburn Police Combined Traffic Services will be hosting law enforcement agencies from across the province on June 3 & 4 targeting high-risk driving behavior, unsafe vehicles, passenger restraints, and impaired driving. STEP is held in 6 municipalities each year.  To learn more about STEP, click here.
June  30-July 1, 2020 – Impaired Driver/ Vessel Enforcement
In Canada, operating a boat while under the influence of alcohol or drugs is an offence under the Criminal Code of Canada.  You're considered to be 'impaired' or 'under the influence' if you're tested (with a breathalyzer or blood test) and the results determine that your Blood Alcohol Concentration level (BAC) is in excess of 80mg. Sure, people's tolerance level to alcohol may vary, but this number does NOT. 80mg = drunk boating. And for good reason – 65% of the boating-related accidents in Canada involve alcohol consumption as a factor.
Alcohol may be consumed on board a boat in Saskatchewan so long as the boat has a permanent toilet, cooking facilities, sleeping facilities and it is anchored or moored to shore.
As the boat operator, it is YOUR responsibility to make sure your boat meets requirements before any passengers crack open any beer or liquor. It is also your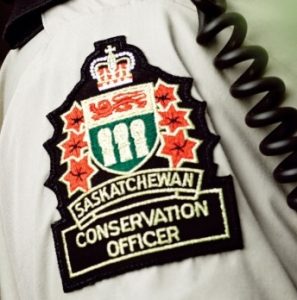 responsibility to stay sober to make sure everyone gets home safe.
In Saskatchewan, the fines and penalties for operating a boat while under the influence of alcohol or drugs match the fines and penalties for operating a motor vehicle while under the influence of alcohol or drugs. There is NO difference between drunk driving and drunk boating.
Weyburn Police Combined Traffic Services will be partnering with Saskatchewan Ministry of Environment Conservation Officer's from the Weyburn Field Office to conduct boater sobriety enforcement as well as ensuring boaters are complying with regulation of the Saskatchewan Small Vessel Act.
February 12 & 13, 2020 – Slow to 60 Work Zones and Emergency Vehicles
Drivers must slow to 60 km/h in highway construction or orange zones, when encountering emergency vehicles (ambulances, fire trucks, and police vehicles), tow trucks stopped on the roadside and around snow plows in winter.
There are some rules that apply specifically to meeting emergency vehicles on the road: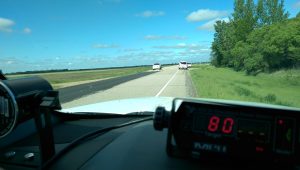 The emergency vehicle always has the right of way when its siren is sounding and lights are flashing.
You must stop and let the emergency vehicle through at intersections.
If your vehicle is approached by an emergency vehicle with its lights or siren activated, you are required to move as close as possible to the right side of the road (or choose the nearest curb when driving on a one-way street). You should not enter the next intersection until after the emergency vehicle has passed through. The only exception to this is if a peace officer gives you other directions.
If the emergency vehicle is stopped on the highway with its lights engaged, you must slow down to 60 km/h when passing it (unless you are travelling in the opposite direction on a divided highway).
Do not try to follow the emergency vehicle as it goes to or comes from an emergency.
The warmer months in Saskatchewan mean that municipal and highway workers are busy improving roads and infrastructure.
"Drivers are more likely to come across construction or orange zones in the summer and fall. They should familiarize themselves with ongoing construction projects on their route and plan ahead. They should also remember the traffic safety precautions they need to take in orange zones," said Ell.
Drivers should keep these requirements in mind when going through construction areas:
Orange signs indicate construction, and may designate the start of the orange zone, which requires all traffic to slow to 60 km/h or less when passing a worker, flagsperson or equipment occupied by a worker.
You must slow to 60 km/h when passing Ministry of Highways and Infrastructure equipment (including snow plows), whether parked or in motion, when the warning lights are on.
Drivers should watch for workers and flagspeople, and be prepared to stop or slow down even more.
Some municipalities require drivers to slow to 60 km/h through the whole orange zone. You should familiarize yourself with local traffic bylaws and watch for signs indicating construction speed limits.
August 2020 – Vehicle Equipment Regulations Enforcement
Members of Weyburn Police CTSS, Weyburn RCMP Traffic Services, Saskatchewan Highway Patrol and the Canada Border Service Agency will be conducting an enforcement and education blitz focusing on mechanical fitness of vehicles; commercial and private.  Members will be focused on violators of the Vehicle Equipment Regulations, The Highway and Transportation Act and Motor Vehicle Transport Act; as well as other relevant acts.  It is important that vehicles of all shapes and size be fit for road use – be it in good working condition. Everything from the operation of signal lights, brake lights, day ti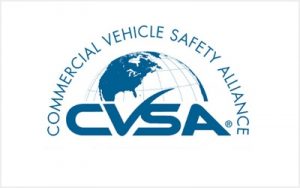 me running light (DRL's),  brake linings, tire tread to windshield condition is included in this assessment and plays a pivotal role in ensuring safe operation of motor vehicles; more so, will protect from and mitigate the likelihood of collisions, injuries, or death on Saskatchewan Highways.
Remember to slow down to 60km/h when passing emergency vehicles with light activated as our members will be working hard to ensure our roadways stay safe for everyone.
September 22-28, 2020 – Railway Safety Week
Public-Rail Safety Week takes place across Canada and the United States September 23-29.  Weyburn Police Service would like to remind everyone of the dangers of railway crossings and the seriousness of trespassing on railway property.
According to February's railway safety statistics, crossing incidents are on the rise in Canada in 2017 compared to the same time last year.  In January 2017 there were three trespasser fatalities and two crossing fatalities in Canada.  Virtually all of these incidents and other rail-related injuries were totally preventable.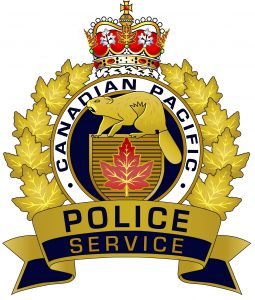 "Everyone should be aware, attentive and prepared to stop at highway/railway crossings," says Edward Soldo, Director of Roads and Transportation.  "Whether you're a driver, cyclist or pedestrian, signs and signals must be obeyed and you should never attempt to go under or around a closing gate."
"Railways are private property and playing on the tracks or bridges is not only illegal, it is dangerous and could be fatal," says Mayor Matt Brown. "We must always be vigilant, but during Public-Rail Safety week we especially encourage parents to teach children the only safe way to cross railway tracks is at designated crossings. Never play near or on the tracks."
Weyburn Police Service will be collaborating with CP Police (Moose Jaw Detachment) this week to ensure motorist and pedestrians are following the rules of the road and of the railway while travelling and around railway yards and crossings.
October 8-9, 2019 – Distracted Driving Enforcement
SGI's JFO Traffic Safety Awareness focus for the month of October is Distracted Driving. Member's of Weyburn Police CTSS, Estevan Police CTSS, Moose Jaw Police, and Weyburn RCMP Traffic Services will conduct enforcement in several locations within the city of Weyburn looking for those who continue to drive while distracted. Driving while distracted is the number 1 contributing factor in collisions overall and one of the top 3 factors in fatal collisions. The most common driver distractions are: texting, using a hand-held electronic device like a cellphone or smart phone, eating & drinking, reading, smoking, and pets.
December 2020 – Multi-Agency High Visibility Impaired Driving Initiative
SGI's JFO Traffic Safety Awareness focus for the month of December is Impaired Driving. Member's of Weyburn Police CTSS, Moose Jaw Police CTSS, Regina Police CTSS, Saskatchewan Highway Patrol, Saskatchewan Ministry of Environment(Conservation), & Weyburn RCMP Traffic Services will conduct enforcement in several locations within and near the city of Weyburn looking for those who choose to drive impaired. Driving while impaired is the number 1 criminal factor in collisions overall and one of the top 3 factors in fatal collisions. Officer's have powerful tools in detecting impaired driving, including but not limited to alcohol detection devices, Standard Field Sobriety testing, & Drug Recognition Experts. Members will issuing "positive" tickets to designated drivers transporting individuals under the influence of alcohol or drugs. During this initiative, expect to travel through a check-stop location or being stopped by one of our partnering agencies.