2021
---
2021/05/18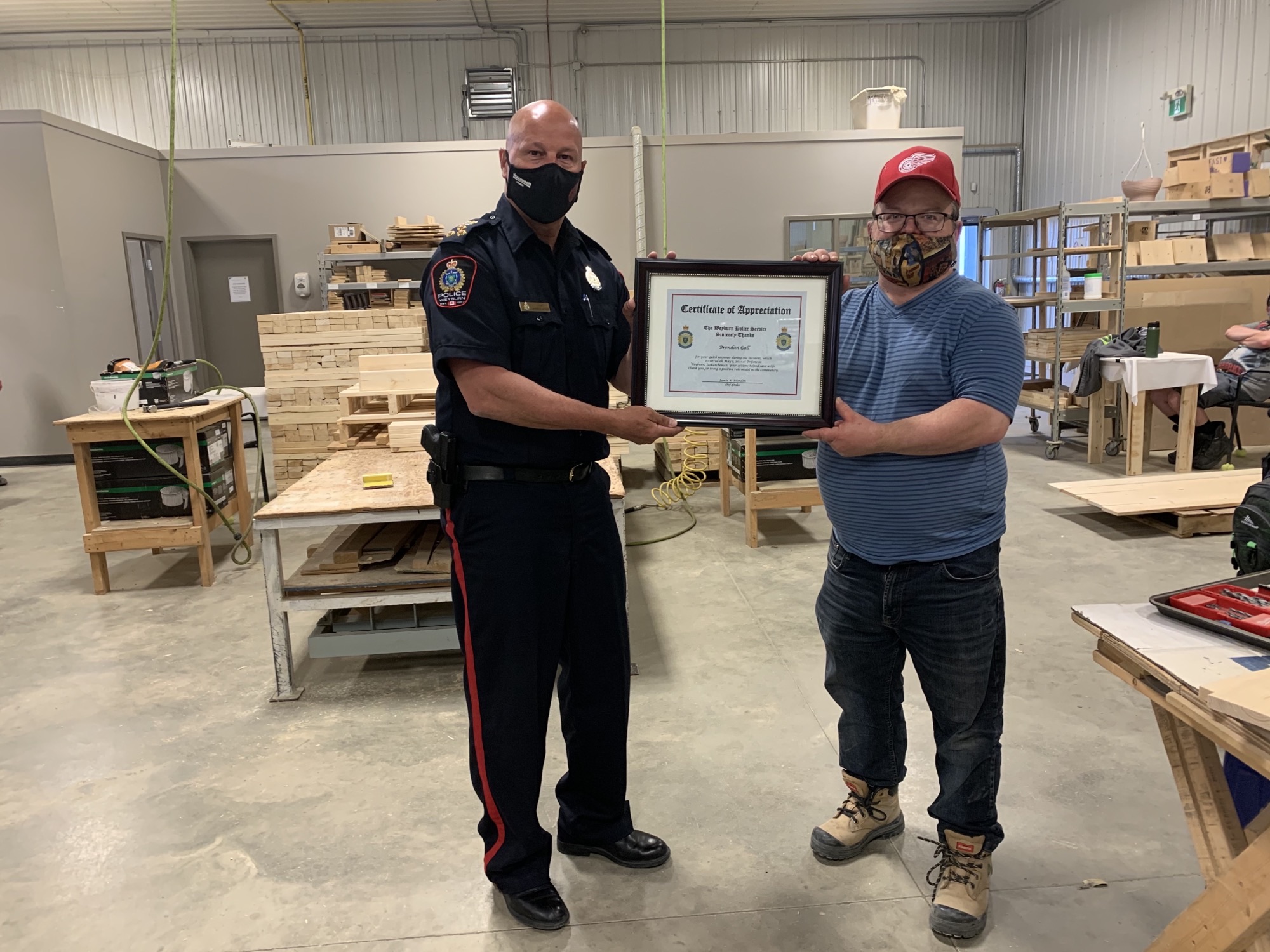 The Weyburn Police Service is honoured to recognize Brendan Gall with a Certificate of Appreciation for his quick response during an incident on May 5 at a local restaurant that helped save a life.
Chief Jamie Blunden presented Mr. Gall the certificate last week at the Wor-Kin Shop, where he is a valued employee. The WPS sincerely thanks Mr. Gall for his brave and knowledgeable actions during the emergency that merits this award.
Weyburn is proud to have community members like Mr. Gall who exemplify genuine concern and take impressive and safe action during emergency situations.
Read the news release here.
2021/05/10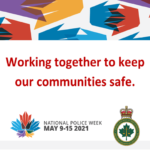 May 9-15, 2021 is National Police Week, a time to encourage awareness and new connections between police and the communities they serve. The theme for 2021 is "Working together to keep our communities safe" and the Weyburn Police Service is celebrating its role and pride in being an important public safety partner.
Read the news release here.
2021/03/16
Working together for a safer community is the top priority for the Weyburn Police Service in its new strategic plan.
On March 1, the Weyburn Police Service released its 2021 WPS Business Plan, prepared in collaboration with the Weyburn Board of Police Commissioners. The plan serves as a roadmap for the WPS and improves transparency with the community it serves.
The entire 2021 Business Plan, along with other business plan resources, can be found on the WPS website.
Read the news release here.
---
2020
---
COVID-19 Service Updates
2020/03/20 5:05pm
The Weyburn Police Service is working in collaboration with the Saskatchewan Public Safety Agency and Public Heath to determine details of education, compliance and enforcement surrounding the Order given by the Government of Saskatchewan this afternoon.
The Weyburn Police Service is in full support of the Order by the Province requiring individuals who have recently travelled to self-isolate and all others to practice strict social distancing.
The Weyburn Police Service, in conjunction with the City of Weyburn, will focus on continued communication and understanding with our community on this urgent public health requirement.
Please visit the Saskatchewan Health Authority Website.
Anyone having concerns about a police response or public safety in general during this pandemic is asked to contact Acting Chief Rod Stafford at 306-848-3250.
2020/03/20 04:33pm
Premier Scott Moe today signed an order pursuant to the provincial State of Emergency directing that all orders of the government and Chief Medical Health Officer must be followed and that law enforcement agencies in Saskatchewan have the full authority to enforce those orders.
Effective immediately:
• Public gatherings of more than 25 people in one room are prohibited except where two metre distancing between people can be maintained; workplace and meeting settings where people are distributed into multiple rooms or buildings; and retail locations (ie. grocery stores, pharmacies, gas stations).
• The closure of all nightclubs, bars, lounges and similar facilities. Take out of alcohol or food products so permitted with two metre distancing between customers and the delivery of alcohol or food products.
• In-person classes in all primary and secondary educational institutions both public and private are suspended.
• Visitors to long-term care homes, hospitals, personal care homes, and group homes shall be restricted to family visiting for compassionate reasons.
Mandatory Self-Isolation
• Effective immediately, all persons that have travelled internationally shall go into mandatory self-isolation for 14 days from date of arrival back into Canada.
• Health Care workers who have traveled internationally, truckers, rail, airline or other working crews are exempt from this advisory only if they are required to work to maintain essential services, provide emergency health care services and maintain supply chain, and are supervised by Infection, Prevention Control Officers and/or Occupational Health and Safety in the workplace.
• All persons who have been identified by a Medical Health Officer as a close contact of a person or persons with novel coronavirus disease (COVID-19) shall go into mandatory self-isolation for 14 days from the date of last having been exposed to COVID-19.
• All persons who have become symptomatic while on mandatory self-isolation shall call HealthLine 811 and follow HealthLine's directives.
• All persons who are household members of a person having laboratory-confirmed COVID-19 shall immediately go into mandatory self-isolation, call HealthLine 811 and follow HealthLine's directives.
Effective March 23, 2020
• The closure of restaurants, food courts, cafeterias, cafes, bistros and similar facilities. Exceptions are take out with two metre distancing between customers during pick-up; drive through food services; delivery of food products; soup kitchens, not-for-profit community and religious kitchens with two metre distancing between tables.
• The closure of all recreational and entertainment facilities including fitness centers, casinos, bingo halls, arenas, curling rinks, swimming pools, galleries, theatres, museums and similar facilities.
• The closure of all personal service facilities including tattooists, hairdressers, barbers, acupuncturists, acupressurists, cosmetologists, electrologists, estheticians, manicurists, pedicurists, suntanning parlours, relaxation masseuses, facilities in which body piercing, bone grafting or scarification services.
• The closure of dental, optometrist, chiropractic, registered massage therapy and podiatry clinics except for non-elective procedures.
• All daycare facilities are limited to maximum of eight children unless they can configure the facility so that a maximum of eight children are kept in room and be in accordance with the Saskatchewan child care guidelines for care.
• All daycares that are co-located with a long-term care or personal care home that meet the above restriction shall be segregated with a private entrance so that there are no shared common areas with the home and no interaction between daycare children and residents of the facility.
2020/03/19 09:43am
Effective immediately the Weyburn Police Service will lock the front door of the Weyburn Police Service office. The Police Service remains open and fully functional responding to all calls at this time. We are committed to our responsibility to ensure public safety and the protection of our Staff is paramount in order to fulfill that objective.
We are also suspending in-person Criminal Record checks. Anyone needing a Criminal Record check is asked to use the on-line application portal found on our Website at www.weyburnpolice.ca. Results will be emailed. Anyone who is picking up an already applied for Criminal record is asked to contact 306-848-3250 to arrange to have that document emailed to you. Please do not attend in person to pick up your record check. Anyone requiring fingerprints for Immigration files or any other emergent or important reason is asked to contact the Weyburn Police Service at 306-848-3250. Our Staff will make a determination of if and how they can assist you and may provide you with some personal safety recommendations (mask, gloves) before attending to the Police Service.
We are asking everyone to make telephone contact with the police your first choice rather than physically coming to the police station. If your concern requires a police officer to come to your location you will be asked a short series of questions regarding the current state of health of everyone in your residence along with recent past travel history. This will assist our Officers in determining what, if any, precautions they must take in responding to your call.
If you do need to attend the Police Station in person you will have to Buzz the intercom. You will be screened as above prior to any decision to allow you into the building.
As an emergency service we are not able to close our doors as some businesses have either been forced to do or have chosen to do. Because we need to be able to respond to any situation we are taking these unprecedented measures to ensure that our Staff are safeguarded as much as possible to any potential exposure to Covid-19.
Anyone having concerns about a police response or public safety in general during this pandemic is asked to contact (306) 848-3250.
We thank you all for your patience and compliance with these restrictive processes.
For more information, visit the Government of Saskatchewan website.