**THIS PROGRAM IS NO LONGER OFFERED BY BIG BROTHER BIG SISTERS. FOR INQUIRES, CONTACT REGINA CHAPTER OF BIG BROTHER BIG SISTERS AT 306-757-3900.
Kids 'n' Kops, in conjunction with Weyburn Big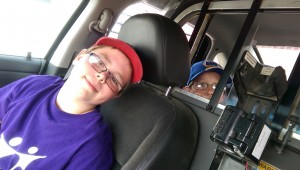 Brothers Big Sisters, is a summer day program running twice a week during the months of July and August. The program is facilitated with the assistance of the Weyburn Police Service. It provides a positive and safe environment for children to interact with police officers through various in-city and out-of-city activities.
In 2015, participants took part in various educational and entertaining activities outside of Weyburn, including:
Tour of the RCMP Depot in Regina, Saskatchewan
Tour of the Royal Saskatchewan Museum in Regina, Saskatchewan
Team Building Laser Tag in Regina, Saskatchewan
An opportunity to attend a Saskatchewan Roughriders Football Game in Regina, Saskatchewan
Mini-Golf and a day of water sliding at Kenosee Superslides Waterpark in Kenosee Lake, Saskatchewan
The Weyburn Police Service also provides a tour of the Police Service facilities, including demonstrations of equipment operation. In addition to a private tour of the Police Service facilities, Weyburn Police Service members may cover topics such as:
Firearms Safety
Bike and Street Safety
Criminal Code Offences and Provincial Statutes
Fingerprints and Arrest Procedure
Cell Block and Prisoner Detention
Traffic Accident Investigation
Traffic Enforcement
Home Safety
Self Defence
Healthy Lifestyle/Physical Fitness Program
The goals of the Kids 'n' Kops program are to:
Promote trust between law enforcement members and children
Foster a realistic concept of police officers
Provide contact with adult role models
Increase knowledge of law enforcement
Encourage and promote positive lifestyles while building and maintaining professional and positive relationships with children
For further information about this program, contact Weyburn Big Brothers Big Sisters at 306-842-4050, visit www.weyburnbigbrobigsis.ca or the Weyburn Police Service non-emergency line at 306-848-3250.