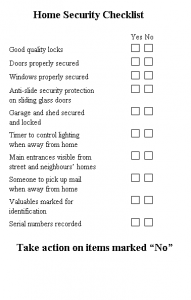 Help the Police Help You
Crime prevention is everyone's responsibility. Get to know your neighbours and their routines. Be aware of strangers. Note licence plate numbers of suspicious vehicles and descriptions of suspicious people. Call the police with information as soon as possible at 306.848.3250 or, if a crime is in progress, call 9-1-1. Criminals are often caught after alert neighbors contact the police.
If you find a door or window that has been forced or broken while you were absent, do not enter. The criminal may still be inside. Call police from a cell phone or from a neighbour's home immediately.
If your home has been unlawfully entered, do not clean up or touch anything until the police have inspected for evidence.
Prevention is key. Comprehensive Home safety and Security information can be found here. This information is courtesty of the City of Saskatoon's Safe City Initiative. *The contact information found in the document is for City of Saskatoon residences. Contact Weyburn Police Service at 306.848.3250 for any inquiries.
For information on protecting your home from incidents of fire, visit Weyburn Fire Department page here.