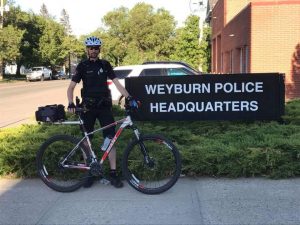 Bicycle mounted police officers respond to the same types of calls as their motorized counterparts. They have the advantage of arriving at the scene of an incident undetected, and are often able to catch criminal occurrences in progress. In addition to this, they are expected to patrol areas that are inaccessible to cars. The Bike Unit is also an invaluable tool in keeping crowds safe at special events and during demonstrations or other similar events.
Bike Unit members are also in high demand at community events and frequently speak to young people about bicycle and personal safety. Bicycle officers are seen by members of the public as being very approachable, and as such are able to easily build ties with the community.
Weyburn Police Service currently has 8 members in the Bike Patrol Unit. Members receive 3 days of specialized bike training focusing on operational response, safety, and tactics. Every police officer in Weyburn who rides a mountain bike must undergo specific police mountain bike training sanctioned by the Law Enforcement Bicycle Association.